Contributions by all, put together by Soo
Well let's toast to another amazing year for us! Once again we are too late for Golden Pints, but still have a lot to evaluate from the last year and exciting times to look forward to with lots of of change* (see disclaimers below!) and new opportunities on the horizon.
What hasn't changed, is that we drank some superb beer, with ace people in some pretty cool settings! We kicked off last year with Tryanuary, arranging several events in both Staffordshire and Greater Manchester , and worked with several venues who all did a lot of great things to make #tryanuary a huge success. It also gave us a great opportunity to interact with more people, and although difficult at times to juggle everything going on with new jobs or long working weeks, it was totally worth it! This year we took a step back, but the couple of events we have had a part in organising should be dead good.
A quick run down of some of the favourite beers and events of 2018:
Best UK Keg:
V went with Deya – Steady Rolling Man for its consistent quality irrespective of serving style and a 'go to' whenever its around!
Handily, Sean and Kate both chose Wander Beyond – Bloom, trying it for the first time at Summer Beer Thing, Sean was blown away,
"The flavours were unreal. Silky smooth and not too sweet. So good to have a second go at it too at Dark City, didn't realise that we both loved it so much!!"
Adam has also embraced the dark side this year with Wylam – Imperial Macchiato "Coffee, Hazelnut… Imperial! What else could I want from a stout!?"
Great Cask:
Although we don't all necessarily reach for cask first, we have had the pleasure of sampling some very well kept cask over the last year. Say what you like about the 'bringing cask back' debacle, it has certainly highlighted the importance of keeping it well and encouraged venues to shout about their offering. We have certainly drank more cask in the last year than we did in 2017!
Soo up first with Five Points – Brickfield Brown, "a great take on a classic brown ale, an excellent balance of malt and dryness on the finish. It was either that or the delicious pints of Northern Monk- Eternal post dark city which probably went down far to easily!"
Kate has an entry into the cask category this year with Hop City DIPA – Northern Monk. "Definitely never thought my favourite cask would be a DIPA but just couldn't get enough of it at Hop City!"
V went with the daft Amundsen // North – Coconut IPA whilst Sean has stuck to the old favourite and all round crowd-pleaser, Track– Sonoma which is ordered repeatedly whenever it is available!
Best UK Small Pack Beer:
Sean & Adam have both gone with Atom – Neutron Star.
Sean wrote "Following a punt in a Buxton bottle shop @beerdistrictbux last year, we were absolutely blown away by both branding and the flavours packed into this beer. We were really excited for this years release. So much so that we made a special trip on a school night…"
V has gone local (to her!) with Northern Monk – City of Industry and Kate has gone with one of our group favourites in Buxton & Cromarty – Cranachan. "Raspberries, oats, honey, I only tried this once but daydream about it on almost a weekly basis. Not a style I would usually choose but I'm so glad I did, a really accomplished beer."
Soo has gone with Marble and Lily Waite's super refreshing summer hit, Dinosaurs Will Die. "The artwork, context and timing with the sunshine was perfect, and it was the most refreshing gose. I bought it whenever I spotted it in fridges and drank a heck of a lot of it over Manchester Beer Week with some excellent people!"
Best Overall UK Brewery:
Adam has chosen Northern Monk this year, and Sean has gone with Verdant. These two need no explanations, and both breweries catch our eye whenever they appear on beer boards.
Soo has gone with Burnt Mill, having only tried them for the first time this year, it has been a go to whenever it is on. "I think I first tried Green Path in can, having read their story and I was blown away. More recently I have enjoyed the fog series, in particular the Citra Fog which was absolutely gorgeous!
Kate has chosen Cloudwater Brew Co, a brewery we all love for the beer, the ethos and the people involved. "All bases covered for me, from their lagers in the long hot summer (that mandarina, wow), enjoying the recent batches of sours this autumn, to nurturing that bottle of Christmas cake imperial stout."
Best Collaboration Brew:
We all know V's love for Northern Monk // Equilibrium – Infinity Vortex! "It was just amazing to drink. Really smooth and did not taste it's ABV of 7.2%! Just a really enjoyable collab from some big breweries that lived up to it's hype, when these big collab brews sometimes don't."
Kate has also chosen a Northern Monk collab, this time with Finback – Once, Twice, Three Time's a Whale for its "Red berry mosaic juiciness!"
Adam has gone international for his collab with Other Half // Civil Society – Hyper Sleep whilst Soo has stayed a lot closer to home with Neptune & Ladies that Beer Collab, Namaka. "A tiny bit of bias considering I had the chance to join in at the brew the day- but it was a truly lovely beer and perfect for the sunshine. We had an entire table at Grub on the cans of it a few weeks after launch!
Best Overall Overseas Beer:
Beer festivals have been instrumental in giving us so many great opportunities to try beer from far and wide this year and Soo and V's beer of Indyman was Alefarm – Solemn Cycle. V passed on the message and there were about 10 people drinking it at the end of the session. Tons of coffee, smooth as anything and extremely memorable!
This year a we also had the absolute pleasure of going to Berlin for a combined gig and beer holiday. It was incredible. We drank pints of Maisel Weiss for 3 Euros watching Hot Water Music (with surprise afterparty!) at the Astra which was hands down one of the best nights out we have ever had. The beer & coffee venues across the city were ace and our particular highlights were The Muted Horn, Stone Berlin, BRLO and staying opposite the Mikeller bar was certainly a cheeky bonus!
Adam's best oversees beer comes from this trip and was Põhjala – CocoBänger which was sampled along with lots of other small pours at Stone Berlin. A lovely way to try lots of beer and it was a real standout from an ace beery experience. Just don't ask Soo about the fish….
Kate's gone Stateside with Other Half Brewing Co – Double Sunset.
Sean managed to make it to the Omnipollo TTO at Buxton this year and was one of about 400 that queued up to get in! The highlight and winner for him this year was Scelerisque; "it was barely a beer, way over the edge of ridiculousness. It managed to be one of the most interesting, unusual, talking point drinks I had in 2018. And what a day that was!"
Best Overall Overseas Brewery:
Sean has gone with Oslo's Amundsen, which have really exploded onto the scene for us over the last year. The variation of the beer styles, the cracking standard and that white stout really won him over!
Soo has gone for Whiplash, Ireland. Never been disappointed with a beer and they really are the standouts from this year. Must have been noteworthy to remember sharing a can of Bone Machine with V back in February (especially post-Untappd!) as well as the ace a tap takeover at Port St in March.
Adam & Kate have been fortunate enough to sample some amazing beer from Other Half Brewing Co; Brooklyn. Both are excited to be off on an amazing trip this year in September with Other Half being on the must see list!
Sarah was blown away by everything Garage on her trip to Barcelona this year; "the bar had loads of good beer on, really friendly people, good value and delicious food"
V has gone leftfield, going for Garden Brewery from Zagreb, Croatia this year. Not something we have all had the chance to try yet- "I've liked every beer I have had of theirs. Had my first in Hop Hideout in Sheffield – a Samphire Sour with Magic Rock and loved it. My local Raynville have started to get their stuff in and everything I have had has been really accomplished. Looking forward to more!"
Best Branding:
Kate has chosen the beautifully illustrated designs of Wander Beyond which are so unique, creative and instantly recognisable!
Sean has opted for Burnt Mill, "Love the way they name their beers (hop prominent) and the landscapes on those textured cans" he bloody loves a textured can!
Adam has gone with Northern Monk again this year; "The collaborations with the artists are incredible, really appreciate the level of thought that goes into the fold out can designs." We are super excited to see what they are launching in the next couple of days – we're sure it will be mega!
Duration is Soo's pick for branding over the last year. "Everything is just so well thought out, and I think they have got it so right. Beyond the lovely graphics and lovely merch, I think their approach to social media, and the launches across the UK have really personalised the brand and the dream. Also…those gif-able cans are something else!"
Our Favourite Brewtap:
Collectively I think we all agree that Cloudwater Unit 9 is probably the favourite! The new space is wonderful, great beer selection and has been really well thought out. So nice to have it open and available throughout the week too and we have already spent a lot of time there! Sure the music can be a bit bizarre and it's a tiny bit further from Piccadilly but the quality of the beer, fit out and service is fantastic.
A special mention to V and Sarah's Brew Tap pick: Track for the consistently good beer, excellent vibes, the chance for Sarah to beat the world at table tennis and for the opportunity to bust out our questionable dance moves post Dark City!
Our Favourite Festival:
Another (almost) unanimous decision here! IMBC is one of the festivals we have been going to for several years. We have volunteered here behind the bar, met brewers and (somewhat shamelessly) plugged our Twitter over the years! This year we even got the chance to co-host a fringe event with our good friends at Reasons to Be Cheerful. The beer choice at Indyman is overwhelming in its range and quality every year it adapts and improves. The venue is superb and it truly does feel like the most wonderful time of the year. Hats off to the organisers, can't wait for this year!
Sean did want to add a special mention to one of our faves Leeds International Beer Festival. "This is such an easily accessible festival with drinks for all tastes. Cider, beer cocktails, 14% imported imperial stouts? It's all here." With the addition of the Maine Beer Box, even in that dreadful weather we got to sample some breweries we had never even heard of this year!
SO that sums up some of the usual categories you might find in Golden Pints, but looking at the year ahead we have been discussing predictions and what we think we will make it to this year!
Those that know us may have heard that 2019 sees a couple of us (Sean and Soo) taking a massive leap in starting our own business, opening a small neighbourhood bar in the outskirts of Stockport. Hoping to be open in Spring 2019, this is a massive undertaking which is both exciting and terrifying! Still going through planning and contracts so good vibes welcome!
Although we will all have more work commitments (and fewer weekends free for some!) and after going to everything we could fit in in 2018, this year will be pared down a little! We will definitely be attending Friends and Family, Seshfest and Indyman with a bit of luck so do come and say hello! We'll also be trying to get to more non-beery things, with a few gigs on the horizon and Manchester Punk Fest in April.
So Beer More Social will most definitely carry on! If anything, we would love to expand the idea itself, encouraging set ups of socials and events which we could all promote. It would great to be able to give those that would like to a chance to write pieces for the website, arrange trips and bring more people together over a beer across the UK and beyond!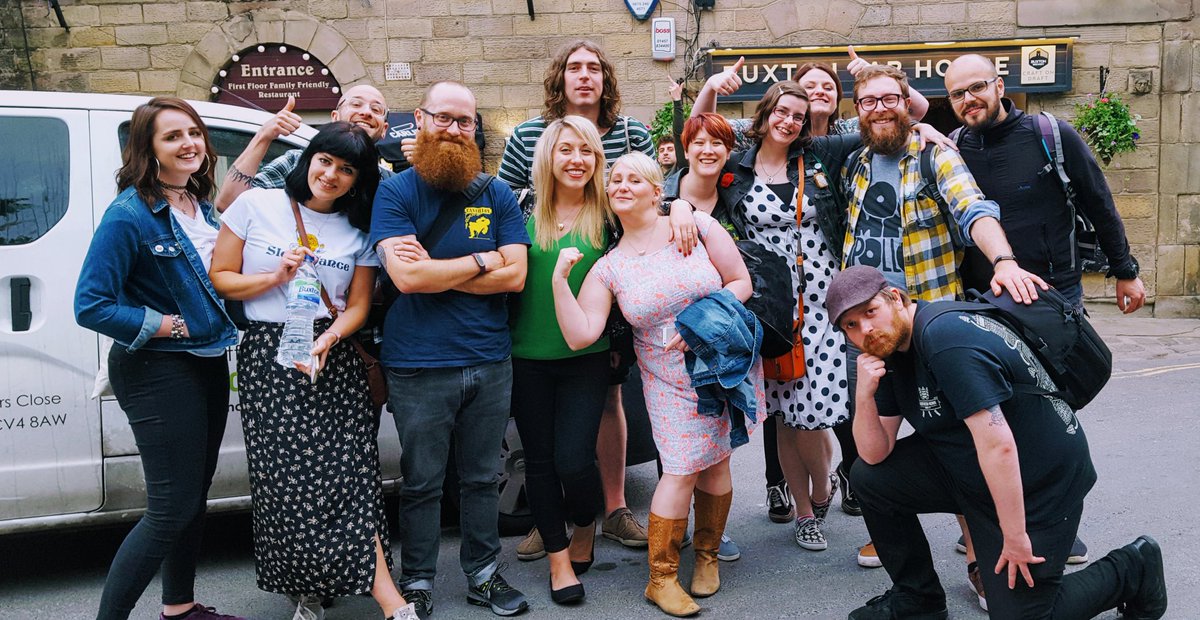 *Disclaimer: Adam is now working at Cloudwater Brew Co, V is part time at North Tap room, Sean works part time at Station Hop and Soo fills in as and when at Reasons to Be Cheerful. All opinions on the blog are our own.